Welcome to DeZine's Product Gallery.   Here I will be showcasing and sharing my products and how they came about.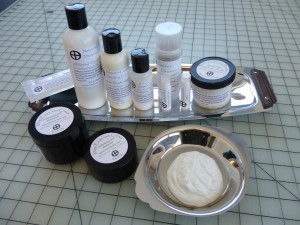 My new line of Nature's Body Products launched January of 2015.  It came about after playing with some Body Butter Recipes for the Holidays and my what seemed like a never ending search to find a natural moisturizer for my face that wouldn't sting my skin.  I am thrilled with Lotion Divine, the only name that truly describes the product and now my search is over because I am the producer of it!  I offer a couple of scented Lotions made with therapeutic grade essential oils and can use anyone of them on my face, however I am a purist and prefer the Natural Scent/Unscented for my face.  It is pure and clean and just soaks right into every pore. There is no sting whatsoever!  Products should not sting your face, if they do more than likely there are some harsh chemicals involved.  I am positive you will love this Lotion Divine as much as I do!  I would love to send you a free sample! Email me at: doreen@dezinesbynature.com and let me know how your search led you to my site and what you are looking for in a face moisturizer and I will send you a sample to try for free!
Next up is my extremely popular Healing Crystal Macrame Pendant.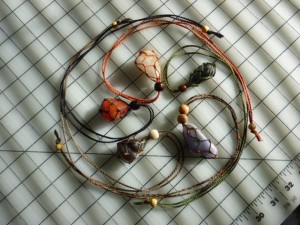 I was invited to be a vendor at a few Psychic Fairs with my Essential Oils and Wire Wrapping of Healing Crystals while you wait.   I quickly learned that 'rocks hounds' are just that and love to collect stones, and well you really can't have every single one wrapped in wire to hang from a necklace, so the idea came from just that, a healing stone/crystal pendant holder that was interchangeable as well as adjustable in length!  This also brought me to the realization that I have been a rock hound all along as well! And so I began knotting and weaving and I continue to knot and weave and I love it.   There is a calm that comes over me from the repetitive craft as well as knowing it will display someone's treasures, stones, sea shells whatever it may be beautifully around their neck. Crafting is my meditation.